Olga Larionova / Shutterstock          
Dive skin-deep in shea with us to learn the origins and benefits of an ingredient that is believed to have been used by Cleopatra — Egypt's iconic beauty.
BY SOFIA TAFICH
Here at Overlooked Beauty, we love shea butter. In fact, it's one of our favorite ingredients. For one, it's the main ingredient in our 'More Than Skin Deep' Shea Face and Body Moisturizer. But it's also part of what inspired the creation of the brand in the first place, after founder and CEO Chisom Eke bought some raw shea butter in a local market while visiting Nigeria. After applying it to treat her eczema, her skin was never the same. A month after returning from her trip, Chisom's eczema had disappeared.

ORIGINS: WHAT IS SHEA BUTTER? 
In its raw form, shea butter is extracted fat from the nuts of shea trees. The shea tree, scientifically known as Vitellaria paradoxa, is native to the African continent and grows in 19 different countries located in West and Central Africa.
Shea butter is a multipurpose ingredient. It's used in some African countries for cooking, and sometimes used to make soaps and candles, but shea butter is widely used on the skin due to its soothing and moisturizing properties. Ivory in color, raw shea butter is a creamy solid at room temperature that easily melts with the human touch.
THE BENEFITS
SKIN
Raw shea butter is rich in vitamins A, E and F and fatty acids, which is what gives it the benefits many people love. It's known to be highly moisturizing, working as an emollient due to its creamy consistency and the way it rapidly absorbs into the skin (hello, fatty acids!). Shea butter soothes and softens dry skin, and helps with flaking and chapped lips.
The American Shea Butter Institute (ASBI) calls raw shea butter "an all-natural Vitamin A cream," as it's what improves skin conditions such as blemishes, wrinkles, eczema and dermatitis. Shea butter accelerates wound healing, including scars and first-degree burns, and can also prevent stretch marks in pregnant women.
According to a study published in the American Journal of Life Sciences, shea butter is also proved to have anti-aging and anti-inflammatory properties, as it promotes tissue cell regeneration and reduces the effects of skin irritants.
HAIR
Just as shea butter does moisturizing wonders for the skin, it's also great for moisturizing the hair and irritated scalp. Additionally, shea butter also works as a deep conditioner for thick, curly hair.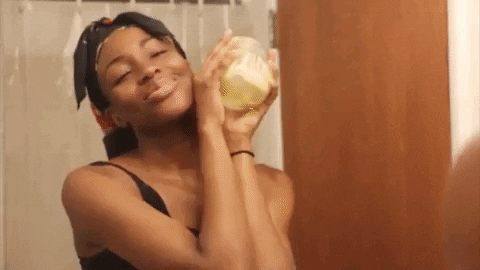 HOW TO USE
The smooth, creamy consistency of shea butter is definitely a skin care plus because it glides easily onto the skin and gets quickly absorbed. In other words, shea butter is easy to use and apply. It's as simple as scooping a small amount of the butter with your finger, rubbing it into your hands, and then massaging it onto your face, body, lips and/or scalp. 
To use as a conditioner, you can also use the method above to massage the shea butter into your hair or you can also melt the butter in the microwave or a stove, and let it cool before applying. For both methods, make sure to leave the butter for 10-15 minutes before rinsing it off.
IN BRIEF
SHEA BUTTER is:
best in its raw, unrefined form (just like Overlooked Beauty uses it)

rich in Vitamins A, E and F

rich in fatty acids
It's good for:
moisturizing

soothing

hydrating

conditioning

healing scars

treating skin conditions such as:

dryness

eczema

blemishes

wrinkles

dermatitis

redness

chapped lips

insect bites